Advanced Folder Encryption
---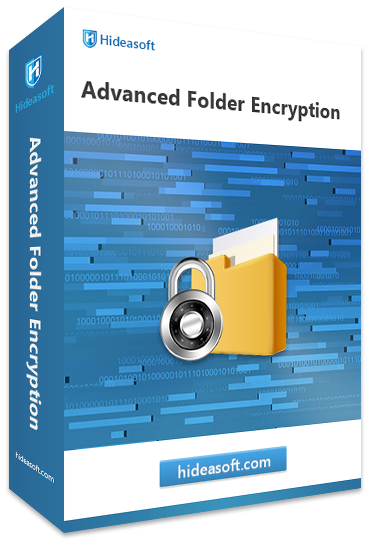 Hideasoft Advanced Folder Encryption 6.75
All-in-one folder locking tool to encrypt, password protect, hide, shred, lock folders and files on Windows
2 simples steps to lock folders, files and hard drives.
Use advanced industry standard AES –bit encryption technology.
Apply Right-Click Menu and enable you encrypt folders and files instantly.
Shred and delete unwanted files for good.
Create encryption list in main window to display status of protected files and folders.
File Size: 3.0 MB
Update: Oct. 25. 2015
OS: Windows 10/8/7/Vista/2003/XP/2000
Special Offer: users who made payments within 24 hours since the start of trial, will receive 100% of their payments refunded, at 2017.12.20, e.g. the 10 Year Anniversary of Hideasoft.
Free trial
Buy Pro
Tutorial
---
Lock folders on your Windows computer has never been easier than now. Kakasoft Advanced Folder Encryption is an ultimate data security solution which allows you lock folders instantly with military standard 256-bit AES on-the-fly encryption. It is an extremely easy-to-use program and offers first class protection for your confidential data on your PC.
What's more, Advanced Folder Encryption simultaneously encrypts and password lock folders /files to secure your sensitive data and prevents any illegal access. It also enables you to shred and permanently remove unwanted files from your computer beyond the possibility of recovery. Advanced Folder Encryption integrates directly with Windows Explorer, enables file and folder encryption, decryption, viewing and editing with just a few clicks of the mouse. Perfect compatibility with Windows 8/7/Vista/2003/XP/2000 is also a highlighted feature of its performance.
Key features of Advanced Folder Encryption
All-in-One Solution for Locking Storage Devices
Encrypt folder, file, an entire local hard drive, USB flash drive, memory stick, jump drive, pen drive, thumb drive, memory card as well as any other type of portable disk.

Lock Folders and Files
Advanced Folder Encryption utilizes 256-bit AES encryption to password protect your important folders or files, which means you stay in total control of your data—only YOU will be able to access your encrypted folders and files.

Instantly Encryption
Password protect sensitive files from unwanted access by blocking unauthorized access and disabling visibility of files, folders and local drives. Achieve encryption in very simple steps.

Data Removal and File Shredding
Advanced Folder Encryption completely removes unwanted files and sensitive data from your hard drive by overwriting it several times with US DOD 5220.22-M erasure method.

Integrated Locker List Screen
With a built-in main encrypt files list screen, Advanced Folder Encryption explicitly displays the status of contents and allows you decrypt, change password, open parent directory for folders/file, optionally, switch display mode as you like.

Password Folder and Lock Folder in Safe-Mode
Password folder and protect private data even in Safe Mode! This is a matchless feature and ensures maximum password protection of your data. Your locked folders and files are 100% secure.

Two Simple Steps to Lock a Folder
Lock folder and file with password in only 2 steps. Open the program and then drag/add a folder to it, set a password and your folder is locked and protected safely.

Password Folders with Separate Passwords
Allow you to set independent password for each folder, which is very helpful if you need to share your folders with different users.

Support All Windows Operating Systems
The program is fully compatible with Windows 7/8/Vista/XP (32 bit and 64 bit), Windows 2003/XP/2000.
---
Advanced Folder Encryption FAQs
Restore Center allow registered users to recover their password. (But only folders protected with "Normal" security level can be restored. Even us won't be al be to unprotect your folders if your choose to Scramble or Encrypt your folder)
Actually it's just a shortcut for you to decrypt. You can run the program and decrypt your folder from the main Window.
Everyone can benefit from Advanced Folder Encryption. Everyone, from individuals to corporations, wants be reassured that their confidential information remains confidential. Advanced Folder Encryption can provide that reassurance.
This folder locker software allows you to lock, secure, encrypt and hide any media that you can read and write to: hard disk, floppy, flash memory, USB or Firewire portable drives, etc.
There is no limit to the size of files nor to the total number of files that may be lock/scramble/encrypt at one time.
With Advanced Folder Encryption option, secret files are highly secure. It uses 256-bit Blowfish Encryption which is a highly secure method to protect sensitive files.
It uses three different locking methods to secure your files and folders, protecting files at kernel level, Windows Explorer level and (real) DOS Mode Level. However, it's less secure than encryption.
Yes. Advanced Folder Encryption supports all kinds of disk types like FAT16, FAT32, NTFS; EFS.
Yes. Advanced Folder Encryption can be used on Windows Vista/2003/XP/2000.
Registered users will get:
No nag screens, no functionality limits.
Free upgrade for usual update, Discount upgrade for super improvement.
Life-time priority customer support.
Feature requests will be welcome.
Registered users of Advanced Folder Encryption are immediately eligible for lifetime upgrades and support. Once you purchase it you can use it for as long as you like and if a new version is released you can get that too. Nothing more to pay ever.
Yes. Our customer support is free for all our users. If you have questions or comments about Advanced Folder Encryption, please contact us at support@hideasoft.com